Bulgarian Food: Is This The Most Fascinating World Cuisine?
If tasting scrumptious dishes around the world is one of your priorities while travelling, then I should introduce you to the relatively unknown Bulgarian food.
I'll admit, Bulgarian cuisine isn't the most popular in the world. Or in Europe. Or not even on the Balkans. But if you hadn't tried it, you've missed on an incredible treat.
Eating in Bulgaria is an unforgettable experience. So much so that the cuisine alone is enough reason to visit the country. And it deserves its own ultimate guide.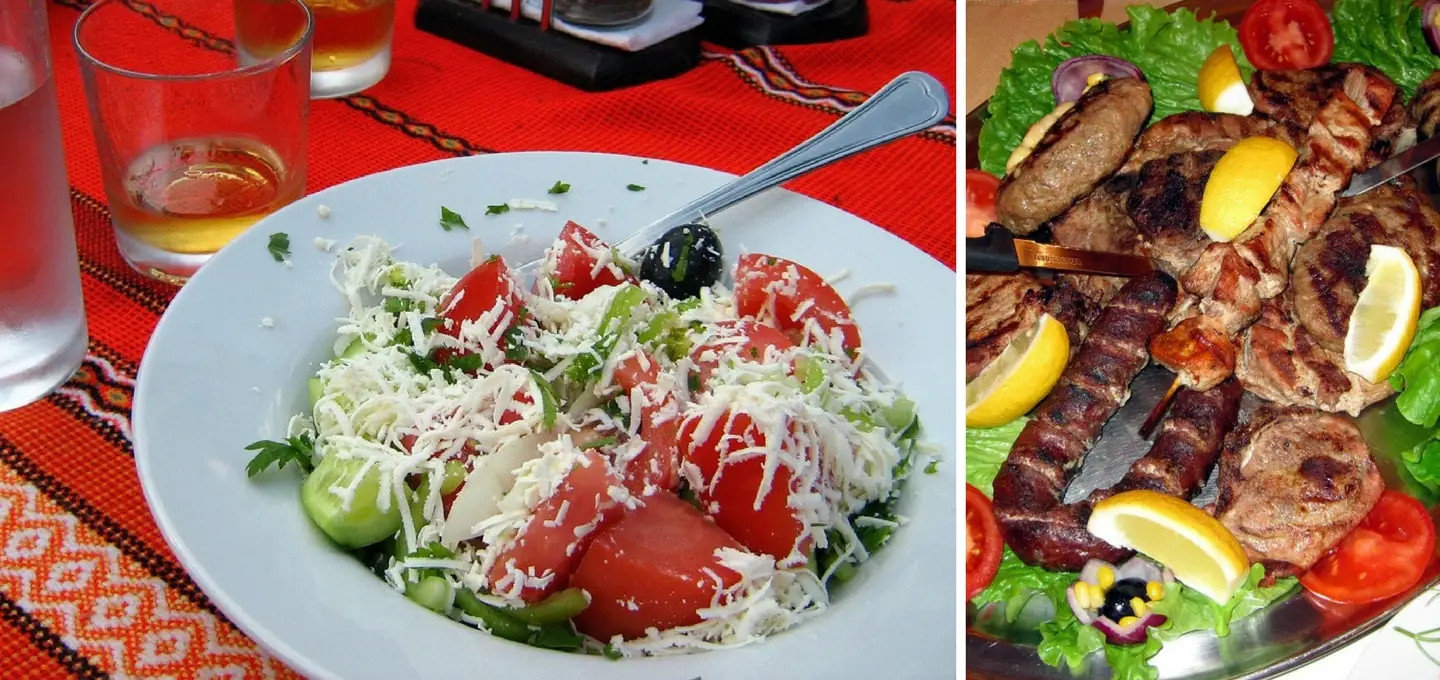 Yes, Bulgarian food is so complex, that it needs explaining.
Yes, Bulgarian food is so history-rich, that you need to learn about the region's past in order to understand what to order from the menu in front of you.
And yes, people will laugh at you, if you don't do it right – not in a bad humiliating way, because no one will expect you to be an expert, but let's surprise them and make you an expert, shall we?
In this guide, you'll find the most commonly served Bulgarian dishes, tips on how to consume your food during a typical celebration, all the hazards you need to be careful about, and more secrets.
Are you ready to take your senses on a gourmet journey? Let's dig in!
No time to read the whole guide now?
Let me send a downloadable, printable copy directly to your inbox, so it's always available at your leisure at home or while ordering Bulgarian food at a restaurant.
Once you've confirmed your e-mail address, you'll receive a link to download the guide. You'll also receive updates about new stuff on this website approximately every 3 weeks. You can unsubscribe at any time. Learn more about our Privacy Policy.
Indulge in these Bulgarian dishes and tips: 
Starters And Soups: Let's Tease Your Taste Buds
To tease your taste buds and get you in the right mood for a feast with Bulgarian food, order one or more of the following appetisers:
Salads from fresh or pickled vegetables, most commonly accompanied by a mouth-watering dressing of salt, oil, and vinegar:

Shopska Salad: this is the most famous salad on the Balkans. Fresh tomatoes and cucumbers join tastes with white brine cheese, peppers, onions, and parsley to give you're a simple, yet heavenly delicious combination.
Ovcharska (Shepherd's) Salad: take the same basic ingredients as shopska salad and add ham, cheese, mushrooms, and eggs for an even richer culinary experience.
Green Salad: made from lettuce and scallion. May also be accompanied by black olives, eggs, cucumbers, or radish to enhance the flavour.
Cabbage and Carrots: either fresh or pickled, the two vegetables complement each other greatly.
Vitaminoza: this salad of shredded carrots, beet, turnip, and apples, garnished with garlic, olive oil, and lemon juice, will boost your immune system throughout the year.
Grilled Peppers: served with dill and garlic, they'll melt in your mouth.
Dips with freshly baked delicious bread:

Lyutenitsa: the most popular Bulgarian relish is made from pureed grilled tomatoes, peppers, onions, garlic, salt, sugar, and oil. It might contain carrots and eggplant. For an extra kick, chillis are added.
Snezhanka (Snow-white): a yoghurt based dip with cucumbers, walnuts, garlic, and dill, decorated with black olives.
Ruska (Russian) Salad: made with boiled potatoes, carrots, gherkins, and ham, mixed in mayonnaise.

Grilled Vegetables: delicious peppers, eggplants, potatoes, onions, and zucchini from the grill. You can order them as starters or as a side dish.
Baked or Grilled Cheese dishes:

Kashkaval Pane: Bulgarian yellow cheese, breaded and fried in the pan.

Mushrooms or meat offal: they are either pan-fried with butter or grilled. Either way, they're lip-smacking.

Po Selski (the peasant way): chopped and fried in the pan with onions and peppers and served with fresh parsley. This Bulgarian dish is also one of the best accompaniments to your glass of wine or pint of beer.
Soups are served throughout the year. These are the most popular ones: (You might find some of them in other national cuisines as well. )
Pileshka (Chicken) Soup: the classic, cooked either clear or with the addition of a little milk. Either way, it's always a great choice to keep you warm or tease your appetite.
Teleshko Vareno (Veal Soup): potatoes, carrots, and onions chopped in large pieces and boiled with large slices of veal create a rich and unforgettable taste.
Kopriva (Nettle) Soup: usually cooked in spring with fresh nettle and served with Bulgarian yoghurt. This dish is only for the most adventurous food aficionados.
Bob Chorba (Beans Soup): prepared either vegetarian or with bacon, bob chorba warms your heart and palate, especially on cold days.
Kurban Chorba: influenced by the Turkish cuisine (check below for a short history explanation of Bulgarian food), this thick soup is usually prepared for a special occasion or celebration. The meat used is lamb, sheep, or veal accompanied by offal, most commonly liver, and vegetables. It is a hefty but delicious soup.
Supa Topcheta (Balls Soup): contains small pork meatballs and vegetables and looks like no other soup on Earth.
Tarator (Yoghurt Soup): a cold summer soup, consisting of watered yoghurt with the addition of cucumbers, walnuts, garlic, dill, salt, pepper, vinegar, and oil. It is the best food you can order on a hot summer day.
Main Dishes: Once Teased, Get Right At It
When it comes to meat, Bulgarians are flexible. Most often, Bulgarian meat dishes would be prepared with pork, but the same meal might also be cooked with chicken on request. These are the most commonly consumed meats.
Veal and lamb are usually served on special occasions. For example, lamb is served in spring and traditionally on May 6th, Gergiovden, when St. George is celebrated.
Beef is not commonly prepared, but goat is cooked in some regions.
Fish is served throughout the year. It is traditionally prepared on December 6th as a celebration of St. Nicholas day, Nikulden.
Rabbit is usually cooked in a stew. Turkeys are also served, although not as often as in other countries.
The most common ways of preparing meat are grilling, roasting, frying in the pan, and cooking as a stew. The latter is often served in a clay pot.
Skara (grilled) and roasted dishes include:
Kyufte (Meatball): made from pork, lamb, or veal. Onion and spices enhance the flavours. Along the classical kyufteta, several other variations exist. The most popular are tatarsko kyufte (Tatarian meatball), which is stuffed with cheese, and nervozno kyufte ("nervous" aka spicy meatball).
Kebapche: minced pork, lamb, veal, or chicken meat with spices is formed as a long stick and grilled. Two kebapcheta between slices of bread is the most popular Bulgarian street food.
Karnache: a sausage, rolled as a spiral from pork, veal, lamb meat, or mixed. The added spices and the smoky flavour from the grill make it to-die-for.
Nadenitsa: the typical Bulgarian sausage, usually from pork meat and spices. When not grilled, it can also participate in a scrumptious dish, called kapama (see below).
Shishche (Skewer): slices of single meat or a combination of different meats are accompanied on the skewer by peppers, onions, and mushrooms. Sometimes, you can also see fish skewers on the menu.
Meshana Skara (Mixed Grill Plate): this signature Bulgarian dish comes with several typical foods. It contains one or more kyufteta, kebapcheta, karnacheta or nadenitsi, steaks, and shishcheta. A fair warning: don't try to eat it alone!
Grilled or Fried Fish: the most commonly served fish dishes are trout, mackerel, and sprat. For the best and freshest sea fish, you should visit, the Bulgarian Black Sea coast.
Cheverme: a whole animal – piglet or lamb – rotates on a huge skewer, roasts on an open fire for four to seven hours until the meat separates from the bone. It is usually served on special occasions or should be pre-ordered in a restaurant because of the lengthy preparation. But the waiting is so worth it!
If grilled food is not what you crave, then you should try some of the popular Bulgarian stews and cooked Bulgarian dishes, such as:
Kavarma: usually prepared in the frying pan and served in a clay pot. It contains meat (pork or chicken), onions, peppers, and spices.
Gyuvech: a mixture of vegetables (eggplant, potatoes, tomatoes, peas, zucchini, carrots, onions, and garlic) and lots of spices. The dish might contain pork or it might be vegetarian.
Kapama: this heavenly dish is prepared in a sealed clay pot. Several different types of meat (pork, chicken, lamb, rabbit, veal, and sausage), sauerkraut, dried plums, and spices are layered in the pot, covered with red wine, and slowly cooked for several hours.
Moussaka: a popular dish in many Balkan countries, with several famous variations. Most commonly, the dish is prepared from minced meat and potatoes. The latter are chopped into small cubes and spices are added. Everything is covered with a topping of yoghurt and eggs, which forms a rind after roasting.
Stuffed Peppers: the peppers are filled with a mixture of minced pork, rice, and spices. They are prepared and served with or without a sauce. Alternatively, zucchini or eggplants might also be stuffed.
Chicken With Rice: the dish is prepared in the oven. The rice used is similar to the sort for risotto and paella dishes.
Sarmi: vine or cabbage leaves, wrapped around a mixture of minced meat, rice, and spices. A vegetarian option of the meal is prepared without the minced meat. Instead, chopped vegetables and raisins are added. They're often served with natural yoghurt on top to further enhance the flavours.
Pork with Potatoes: another dish, prepared in the oven with lots of spices.
Pork with Cabbage: cooked in a pot and then roasted shortly in the oven. Tomatoes and paprika add a nice red colour to the dish. The cabbage can be fresh or pickled sauerkraut.
Stuffed fish, poultry or lamb: filled with a mixture of rice, vegetables (such as carrots, onions, and garlic), raisins, and spices. Minced meat or chopped liver might further enhance the flavour.
Drob Sarma: a rice dish, which you can order as a side dish to meats or on its own. The rice is mixed with meat offal, small pieces of meat, mushrooms, and spices. If served as a standalone meal, it is prepared in a caul to keep its form and add more taste. Alternatively, a mixture of eggs and yoghurt can be used as a topping.
Vegetarian Dishes: Amazing Taste Even Without Meat
If you're looking for vegetarian food, you're in luck in Bulgaria. There is a huge variety of meatless dishes in the Bulgarian cuisine. In fact, most meat dishes can be alternatively prepared in a vegetarian way.
Potatoes, rice, beans, lentils, peas, different sorts of cabbage, aubergines, and zucchini are only a few of the seasonal vegetables used. Vegetable soups or even yoghurt soups are also often served.
In fact, fasting before Easter and especially before Christmas is widely popular in Bulgaria with the culmination being on Christmas Eve when only non-meat Bulgarian dishes are served on the table.
Apart from the above-mentioned, you should try the following regional vegetarian Bulgarian dishes:
Patatnik: a pie-like dish, made of grated potatoes and onions, cooked on a slow fire. This is a traditional meal from the Rhodope Mountains in Bulgaria, which is totally worth the effort of getting there. Not just for this dish, but also for the incredible views. And also for the abundance of mineral springs in Velingrad.
Rodopski Klin: a banitsa-like dish with a rice filling (check below what banitsa is). As the name suggests, prepared only in the Rhodope Mountains.
Eggs Panagyurian Style: the eggs are broken over boiling water. They are then served over yoghurt and topped with butter and paprika. Optionally mushrooms or cheese can be added.
Kachamak: maize porridge, served with melted butter, paprika, and cheese.
Green Beans Stew: a stew made of fresh green beans, ripe tomatoes, carrots, onions, seasoning, and oil.
Bread, Pastries, Desserts, And Snacks: A Great Way To Start A Day Or Finish A Meal
Bulgarian pastries and desserts can be served for breakfast or at the end of a meal. Basically, if you've been invited to dinner and didn't finish your dessert, your host will pack it and you can eat it for breakfast the next day.
Typical desserts, snacks, and breakfasts include:
Banitsa: a pastry made of layered dough sheets and a mixture of whisked eggs, yoghurt, and white brine cheese. Alternatively, instead of cheese, it can be prepared with leek, spinach, or cabbage. There's also a sweet version with pumpkin and walnuts.
Baklava: a sweet pastry with nuts and sugar syrup, popular in the Turkish and Arabian cuisines as well.
Kozunak: sweet bread with walnuts and raisins, typically baked for Easter.
Katmi: a type of crêpes containing yoghurt instead of milk or combination of both.
Oshav: boiled dried fruits and spices, typically served on Christmas Eve.
Pumpkin: several desserts can be prepared from pumpkins.

Stuffed pumpkin: filled with nuts, dried fruits, oatmeal, and covered with alcohol. It is then baked in the oven for several hours. The resulting deliciousness is simply gorgeous in every way possible.
Baked pumpkin: either whole or in pieces, the pumpkin is baked in the oven. It is then served with honey and nuts or with jam.
Pumpkin with milk and eggs: covered with whisked eggs and milk, the pumpkin is then baked.

Strained Yoghurt: served with honey and walnuts or with a home-made jam.
Lukanka: semi-dry salami from pork, veal, or game meat with spices. It has a distinguishable flattened shape.
Pastirma: air-dried cured beef delicacy.
Typical breakfasts, apart from the above, are:
Mekitsi: deep-fried dough served with cheese, sugar, or jam.
Kifli: sweet bread buns, usually filled with jam or nougat crème.
Tutmanik: dough filled with eggs and cheese.
You'll find it interesting to know that bread accompanies every Bulgarian meal. It is unthinkable to start eating without it on the table. Most commonly, white wheat bread is baked. These are several home-made types of bread you should definitely try:
Parlenka: a small thin pita bread, baked on a stone plate.
Pitka: the typical pita bread, the size and the complexity of which may vary greatly. It is usually prepared for a holiday celebration. The decoration of the bread depends on the occasion.
Beverages: You Should Accompany A Tasty Dish By The Right Drink
Did you know that Bulgarian wine production has a long history, dating back to the Thracians?
Or that in the 1980s, Bulgaria was the world's 2nd largest wine producer? Unfortunately, bad politics after the end of the communist era led to losing markets and lowering production capacities.
Thankfully, in recent years, Bulgarian wines have regained their popularity among wine lovers.
These are the most popular wine sorts, which should complement your tasty Bulgarian food:
Mavrud: a red grape, indigenous to Bulgarian lands, capable of producing tannic, spicy wine with potential for ageing. The wine is thick and strong, and goes well with your red meat Bulgarian dishes.
Gamza: a red vine, used for producing both dry red and sweet dessert wines. It is characterised with full taste, deep aroma, and dark colour.
Rubin: a hybrid red vine, selected in the 1940s by combining Syrah and Nebbiolo grapes. It produces dry, semi-dry, and sweet wines. They taste of berries and have the potential for ageing.
Shiroka Melniska loza (broadleaf Melnik vine): a red wine, which has an affinity for oak and can produce tobacco notes. Wine aficionados such as Winston Churchill loved this wine.
Pamid: this was once the most widely spread vine in Bulgaria. The wines are light red table wines with low acidity and extract, which makes them inappropriate for ageing. They should be consumed young, right after fermentation and clarification.
Dimiat: a white wine grape, indigenous to Bulgaria. It is one of the most widely planted white grape variety. Dimiat wines are noted for their perfume aromas.
Plovdiv Malaga: a hybrid vine, produced by crossing Cherven Misket (red dessert wine) and Black Muscat (white dry wine). The obtained wine is a high-quality red dessert wine with an intense colour.
In addition to the delicious Bulgarian wines, you should also try Rakia. It is the most popular local high percentage alcoholic beverage.
You can find a drink with the same or similar name in almost all countries of the Balkans. The taste and the production process are quite similar. Rakia is produced by distilling fermented fruits or wines. The initial colour is clear, but by ageing in barrels or adding herbs, the colour changes to yellow or brown.
The most widely produced sorts in Bulgaria are made of grapes or plums. Other fruits, used to make rakia, are apricot, peach, pear, apple, quince, fig, and cherry. There's even pomegranate rakia!
In summer, rakia is usually served cold, while in winter you'll drink it either at room temperature or mulled with honey and spices.
A fair warning: the fiery drink is always served as an aperitif, not a digestive, as is common with high percentage beverages in other countries. That's why you should order a salad or a starter to go with your rakia.
If rakia is not your cup of tea, you can always order a beer. Local beer is inexpensive. Even world renowned brands are produced in Bulgaria under license, instead of being imported, which lowers their price as well.
If you're feeling adventurous, try the Bulgarian craft beers. Some of the taste combinations will surprise you. I should warn you, though – they be often overpriced.
In addition to alcoholic drinks, there are a few non-alcoholic beverages, produced and enjoyed in Bulgaria.
Boza is a thick drink made of fermented millet flour, with brown colour, unpleasant smell, and weird taste for anyone who hasn't grown up drinking it. If left for several days, it starts fermenting and tasting sour.
Ayran or Matenitsa is a yoghurt drink with a pinch of salt, very refreshing in the hot summer months.
If you're counting calories or trying to avoid unusual tastes, stick to mineral water. Bulgaria is extremely rich in mineral waters and you can buy a bottle for a few cents practically everywhere.
I can't advise you to drink tap water in the capital city of Sofia. In many other regions of Bulgaria, tap water quality is poor as well due to the bad maintenance of the pipelines. In towns with mineral water springs, however, the tap water comes directly from the springs. In many of these places, there are valves where you can pour water into bottles and drink it while it's hot!
In addition to being tasty and thirst-satisfying, the mineral waters of cities like Velingrad, Devin, and Bankya can also combat different diseases.
The Secret Ingredients: Discover What Makes Bulgarian Food Taste So Delicious
As in any national cuisine, the ingredients used to prepare Bulgarian food play an important role.
When fresh local vegetables, various meats, fragrant spices, and dairy products are combined in a dish, the result is much more scrumptious than the sum of its parts.
Find out below what secret weapons are used in a Bulgarian kitchen to produce the unique taste of the dishes.
Spices: What Can Make Or Break A Dish
So, you've visited Bulgaria and tried some Bulgarian food, or you were able to find a Bulgarian restaurant in the place you live. You're amazed by the cuisine, so you try to recreate the dishes to impress your friends.
While the rest of the ingredients aren't so complicated and you can get them basically anywhere, spices are a whole other story.
Spices can make or break a meal.
The most popular spices used in Bulgarian cuisine: black pepper, savory, bay leaves, thyme, paprika, and oregano.
Use the right combination of spices and your guests will be astonished by your cooking skills. Use the wrong spices and your carefully orchestrated meal can end in a disaster.
That's why I've included a mini-guide of the spices, most often used to prepare Bulgarian food. You can find most of them at home, but if you're visiting Bulgaria, why not take with you a selection of these spices as a souvenir?
If you want to discover the secret to the incredibly delicious taste of the food in Bulgaria, this section is for you. The following spices are widely used in Bulgarian dishes, soups, and salads, either fresh or dried:
Savory: it's the most widely used spice in Bulgarian cuisine. You can add it in almost every cooked meal or soup.
Thyme: the fragrant spice is best used in dishes with meat.
Rosemary: used with potatoes or fish dishes.
Oregano: it seasons well both meat and meatless dishes.
Basil: you can put it fresh in salads or dried in soups and cooked meals.
Spearmint: it is a must in any dish, containing beans.
Bay leaf: you should definitely use it in any meal containing veal.
Salt: of course, no dish goes without it. But in Bulgaria, a pinch of salt is even added in some desserts and drinks, such as ayran.
Black pepper: there's almost no dish without it. You can use whole corns or grounded.
Paprika: widely used when frying or roasting meat.
Parsley: commonly used fresh in all kinds of salads.
Additionally, the following spices are used in desserts, cakes, or hot drinks:
Cinnamon: you just can't eat milk rice and pumpkin desserts without it.
Clove: used in desserts, pastries, and hot drinks. You should try it in mulled wine and rakia.
Vanilla: most crèmes, desserts, and cakes are unthinkable without it.
Now you know what spice to use for your next home-cooked dinner, and you don't need to guess what the extremely delicious dish you've just tried contains.
Typical Bulgarian Products With Unique Taste
Several dairy products are widely used in Bulgarian cuisine. You can't imagine a celebration without having at least one dish prepared with them.
White-brine cheese is used as a filling, together with whisked eggs, of pastries, such as banitsa and tutmanik. Alternatively, it can be part of a platter with cold meze, alongside lukanka and pastirma. But that's not all! White-brine cheese can also be stuffing for peppers or even meatballs.
The unique salty taste of the cheese combines phenomenally with almost any fresh vegetable. Therefore, the tastiest salads are sprinkled with shredded white cheese.
Another signature dairy product of the Bulgarian cuisine is yoghurt. Bulgarian yoghurt has a different taste from any other yoghurt you've ever tried. Thanks to the Lactobacillus bulgaricus bacteria, which only grows on Bulgarian lands, the heavenly taste of Bulgarian yoghurt can be added to a wide variety of dishes.
You simply can't eat sarmi or green beans stew without a spoon of yoghurt on top. The topping for mousaka is also prepared with yoghurt. There's even a yoghurt soup! It is the main ingredient of tarator, the cold summer soup.
The most refreshing drink, ayran, is made of yoghurt with a pinch of salt. It is the best cure for a hangover and the most revitalising drink in summer.
Both white-brine cheese and yoghurt are made of one of the following kinds of milk:
cow (most common);
sheep (sometimes mixed with cow milk);
goat;
buffalo (produces the thickest yoghurt).
Fresh Bulgarian vegetables with a delectable taste are used to make some of the most scrumptious salads and cooked meals you'll ever try. Additionally, dips like lyutenitsa wouldn't be as heavenly tasty if it wasn't for the freshest ingredients used.
The Best Of The Best: 10 Bulgarian Dishes You Absolutely Must Try
Now that you've seen this long and exhaustive list of Bulgarian dishes, you might be wondering what are the absolute must-tries?
To save you the trouble, I have 10 Bulgarian dishes for you, which are the best representatives of the local cuisine. Remember, that Bulgarian food should be consumed with caution as it may lead to addiction!
Banitsa: there is no other pastry in the world, which is so simple to bake yet has so many layers to it (pun intended). Alone with the fact that you can stuff the layered dough with a wide variety of fillings is a reason enough for the above statement. Moreover, you can eat banitsa for every meal of the day, as a dessert, or as a snack in between meals. You can buy street food banitsa in every city in Bulgaria and even in small villages. However, the best banitsa is the home-made banitsa from a Bulgarian grandma. Just be careful, because grandmas in Bulgaria are famous for overfeeding their grandchildren. She might just force you to eat the whole huge thing!
Shopska Salad: in neighbouring countries, this salad is widely known as Bulgarian salad. Maybe that's due to the fact that everybody in Bulgaria loves the combination of tomatoes, cucumbers, onions, peppers, and white-brine cheese, sprinkled with parsley. Or it is because the colours of the salad – white, green, and red – are the same as the colours of the Bulgarian flag. Who knows? In any case, you should definitely try it. If you're feeling adventurous, order rakia to go with it and sip it slowly.
Tarator: you will consume Bulgarian yoghurt even unknowingly. Why? Because it is a vital ingredient in Bulgarian cuisine. Many dishes use it. However, tarator's main ingredient is yoghurt. There isn't a more refreshing dish in summer than the yoghurt-based cold soup with cucumbers, dill, walnuts, and garlic.
Kebapche: it is to Bulgarian cuisine what Bratwurst is to Germans or hot dog to Americans. You can find it in street food grill stalls, in small eateries, and even in high-end restaurants. Consume it between slices of bread or with a side dish of chips, salad, and lyutenitsa.
Karnache: the spiral-shaped sausage is delicious grilled food. Like kebapche, it is widely popular. You can devour it in a similar way.
Tsatsa: deep-fried sprat with chips is the most popular dish during a holiday on the Bulgarian seaside. The tiny crispy bits are the Bulgarian version of the English fish & chips.
Kapama: that's a carnivore dish with several types of meat. The meats are layered in a pot with sauerkraut to separate them. The top layer is sausage. It sounds hefty, but if prepared right, the meat melts in your mouth and the sauerkraut adds a heavenly flavour.
Sarmi: this wine or cabbage leaves dish can be both vegetarian or with meat. The former is stuffed with rice, onions, raisins, and spices, while the latter contains minced pork instead of raisins. You should try all variations to find out which version of this Bulgarian food you like the most.
Patatnik: the potatoes-based dish is typical to the most magical place in Bulgaria, the Rhodope Mountains. The fried deliciousness takes a relatively long time to prepare, so you shouldn't order it if you're in a hurry and only want a quick bite.
Strained Yoghurt: since yoghurt is such an important Bulgarian product, you can start and finish your meal with dishes mainly comprising of this scrumptious dairy. Choose a topping of honey and walnuts or a jam to compliment the sour taste of the yoghurt.
Bulgarian Food: Closely Related To Bulgarian History
Look at the map. Bulgaria occupies a spot between worlds, a crossroad between Europe and Asia, having the Western world and Russia always fight for her attention.
Everyone, who passed through Bulgarian lands, left his mark in people's lives, including the food they brought to the table.
Bulgarian food has been greatly influenced by Turkish and Greek cuisines. The different taste of Bulgarian people has also added a unique twist to almost every meal served on their lands.
For example, every meal, containing meat, can be prepared with pork. That's impossible for Turkish cuisine due to religious restrictions.
To make things even more interesting, there are regional specialities, which you can only find in one region of the country and nowhere else. To tease you more, I'll add that they're so scrumptious, it is absolutely worth the effort of venturing there!
Every people and minority, forming today's Bulgarian nation, have brought their own traditions and special ways of preparing the food, adding an amazing combination of spices, colours, and flavours, to form what we nowadays call Bulgarian food.
Table Etiquette: What To Do And What Not
It is not always easy to visit a foreign country and know how to behave at the table. Some customs are quite similar everywhere, while others are close to impossible to know in advance.
The following tips are somewhat surprising to first-time visitors, so sharing them with you will hopefully make your Bulgarian food experience go smoothly.
Eating bread: tearing a small piece of bread and putting it in your mouth with your fingers is fully ok. However, dipping the piece of bread in a dip or soaking it in your salad or main dish should be done using a fork.
Sharing your food: when ordering at a restaurant, most people will order different dishes. They will then often offer you to try their dish or ask directly to taste yours. If someone notices you're not going to finish your food, they'll often ask if they could finish it for you, so it doesn't go to waste.
Ordering and serving food: there's no particular order in which ordered dishes will arrive. The dish, which is prepared first, will be first served. There's no waiting for everyone's food to be ready and served at the same time. This means that people will start eating the moment their food arrives, hence they'll offer to share if yours hasn't been served just yet.
Culture Of Eating: A Typical Celebration In Bulgaria
So, you've been invited to celebrate with your (new) Bulgarian friends.
The first rule is simple but very important. You don't go just slightly hungry; you go with an empty stomach, preferably you haven't eaten the whole day and you're almost starving. There will be food, not just enough, not just plenty. The food will be enough to feed a whole army. But chances are, not a whole army is going to join you.
Your plate will be served full.
No, scratch that. Not just full, but overflowing with a huge mountain of freshly prepared Bulgarian food for you to devour. And as soon as you start seeing the bottom of the plate, more food will be put on the table.
I'm very sorry to inform you at this point that it's extremely impolite to leave food on your plate. You'll just have to eat it all, there's no way around it.
Remember that you arrived almost starving at the celebration? This is good when it comes to eating; not so much when it comes to drinking.
Because, you see, in Bulgaria, the typical aperitif is usually rakia – a strong, 40% or more alcohol drink. Don't even think of drinking it like a shot! With your empty stomach, you'll collapse before they start serving the food. Instead, sip it slowly and wait for the starters (usually several kinds of salads, dips, and pickled vegetables) to arrive.
Depending on the type of celebration, a bowl of soup might be served shortly after the appetisers. By the time you've finished the starters and the soup, you might not feel any more hunger. Beware, though, you're not even halfway through!
Wine is usually served with the main dish (or dishes). Usually red is more popular than white. Don't even think of watering down your wine, even if you find it too strong for your taste.
Towards the end of the main dish, people around you may switch to drinking beer. Now, don't ask me why they didn't just start with beer and stuck to it during the whole meal. It's a mystery to me as well. That's how complicated this is – even a Bulgarian like myself doesn't quite get it…
Back to you now. You've made it through the main dish and all the beverages and you can still stand up. More importantly, you are articulate enough to engage in the conversations around you.
So, congratulations, everyone around you is more or less very impressed with you!
But wait, now comes the hard part!
Just as you thought the feast was over, the hosts will start bringing pastries, sliced cheese, lukanka, and pastirma, desserts, chocolates and – you've guessed it – more alcohol. Relax, it's probably just grandma's favourite liqueur, nothing too strong, but very sweet and just as dangerous. Still not a good idea to do shots, so simply sip it slowly.
If you, however, wish to skip the liqueur, this time it's ok to say no and ask for a coffee instead. By the way, coffee in Bulgaria is by default espresso or in some regions Turkish mocca. So, if you wish for a filter coffee, you're out of luck.
In case the feast you've been invited to has started at lunch, by the time you get to your coffee it's already dinner time. Don't make the mistake of staying for dinner. Just take your goodbyes and walk to your accommodation. If possible.
If you've been invited to dinner, now it's probably the middle of the night. Part your ways with your friends and sleep till noon on the next day. The host might have packed you some of the desserts. Start your day with lots of ayran to help you get over your nasty hangover, a strong coffee and then finish the leftovers from last night.
And just like that, you've survived your Bulgarian celebration!
Warnings About Spoilt Food And Dangerous Drinks
As with most destinations, you should be cautious when choosing a place to eat and ordering your food.
Using common sense and sitting at a table in a restaurant, which already has several guests and looks clean, is in most cases enough to save you from trouble. If the food, served to your table, doesn't look fresh – return it immediately.
There have been cases of fake alcohol being served, the consequences of which range from a bad hangover the next day to permanent blindness! Sticking to beer and wine is hence much safer, as the worst that can happen with these drinks is to receive them watered down.
Another fair warning, especially when drinking home-made high percentage alcohol beverages, is that even if they taste smooth and don't burn your insides immediately, chances are their alcohol percentage is 50, 60, or even 70 in some regions. So, having more than a small glass, no matter what your host insists, can end with a terrible hangover or even a hospital visit.
You're An Expert Now On Bulgarian Food, Congrats
Traditional food is a huge topic in any country. It's impossible to cover every aspect of it and since eating is an experience for the senses, writing about it is quite the challenge.
Yet I hope you've learned at least a few basic rules on what to order and how to consume Bulgarian food.
I hope you'll agree that Bulgarian food is a good reason to visit Bulgaria and I'll be very happy if one day you share your (hopefully positive!) experience.
Until then, share this guide with everyone you know, who might be interested in trying something new, astonishing, and different – let's spread the word about Bulgarian food – the most delicious food you've never tried!
Optimise your travels – connect better with the people you meet!
Do you know what the best way to immediately enhance your travel experience is?
Talking to the people you meet on the road!
Learn how to say "Hello!", "Thank you!" and "Good bye!" in 36 languages.
Download the Traveller's Free Phrasebook now.
Once you've confirmed your e-mail address, you'll receive a link to download the phrasebook. You'll also receive updates about new stuff on this website approximately every 3 weeks. You can unsubscribe at any time. Learn more about our Privacy Policy.