Travel Resources: The Best Travel Tools for Your Adventures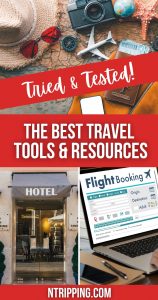 After over 25 years of traveling and living abroad, I'd like to share with you my top travel resources.
From travel planning to finding cheap flights, and from booking affordable accommodation to knowing how to pack…
These are the best travel tools for your next adventure!
Disclaimer: This post contains affiliate links. If you purchase something through one of them, I may receive a small commission at no extra cost to you. Thank you for helping me create free content on this website!
How to Find Your Next Travel Destination
Wondering where to go on your next trip?
If you're looking for travel ideas, there's no better place to get inspired than the amazing travel websites of these top bloggers:
🌎 30 Remarkable Travel Blogs Which Will Make You Insanely Envious 🌎
How to Discover the Best Flights
Here's a list of the best tried-and-tested tools for finding the cheapest flights to anywhere in the world:
📍 Google Flights. The biggest search engine in the world can find not only information but also the best flights. Well, with some exceptions and limitations. That's why I recommend also checking the other two travel resources below.
📍 Omio. Find and book the best transport between any two cities. Not just flights but also trains and buses are available, so you can compare all your options in one place.
📍 Kayak. The coolest feature on this website is finding the cheapest flight from your nearest airport. Sometimes, you might want to escape without a particular idea of where you want to go. Use this feature to brainstorm possible travel destinations.
To learn all my tricks for scoring affordable plane tickets, check this thorough step-by-step guide:
✈️ How to Find Cheap Flights to Anywhere in 5 Easy Steps ✈️
Where to Book the Cheapest Accommodation
Finding affordable accommodation is one of the biggest challenges when traveling.
But don't worry, because I have you covered!
Here are my top 3 places to find cheap accommodation when traveling:
📍 Booking.com. At the biggest accommodation booking website in the world, you'll find anything. Not just hotels and hostels but also luxurious villas, all-inclusive resorts, waterfront bungalows, and city apartments.
📍 Hotels.com. This website often offers better deals for the same hotels you'll find at Booking.com. Additionally, you can sign up for their rewards program and earn free nights.
📍 Expedia.com. The coolest thing about this site is that you can plan your whole trip right there. You can not only book your accommodation but also find your flight, transport, and tours.
And in case you need even more great websites to book unique stays, budget-friendly lodging, or luxury villas, check out this exhaustive travel resource:
🏨 Cheap Accommodation: The Best 90+ Travel Resources 🏨
Where to Book the Best Tours and Tickets
The best websites to book your day trips, tours, and entrance tickets in advance are:
🎫 Get Your Guide. Whether you want to plan your activities way in advance or book them last minute, this is the best place to do it. You'll find the best selection of highly-rated tours and tickets at Get Your Guide.
🎫 Viator. Choose between over 300K experiences from all over the world. One of the best-rated travel websites in the world offers a gigantic collection of activities for you to enjoy.
🎫 Expedia.com. The coolest thing about this site is that you can plan your whole trip right there. You can not only book your accommodation but also find your flight, transport, and tours.
How to Find the Best Ground Transport
For your transfer, day trip, or road trip adventure, discover the best transportation options below:
🚍 Omio. This powerful website lets you search every available transportation option between two destinations. You can choose your flight, train, or bus and book it directly from Omio.
🚍 Flixbus. One of the most popular bus companies in the world also prides itself on its affordable prices and great service. Check if they offer a ride to your next destination.
🚍 Discover Cars. The most flexible ground transportation for any trip is having your own car. Compare prices and book the best rental for your next road trip from Discover Cars.
Additional Travel Resources for Your Next Adventure
Whether you want a complete step-by-step guide on how to plan your trip, tips on how to pack, or ideas on what to bring from your vacation, the following travel resources are for you:
Don't miss the best money-saving tips from world travelers :)
🏖️ How to Plan a Vacation (In 10 Easy Steps) 🏖️
🧳 Busting 5 of the Most Insanely Ridiculous Packing Myths 🧳
💸 15 World Travellers Reveal Their Best Money-Saving Secrets 💸
🎁 6 Travel Souvenir Ideas: The Best Things to Buy on Vacation 🎁
What Are Your Favourite Travel Resources?
And there you have it – my top battle-tested travel resources which have allowed me to travel to 45+ countries in the world.
Now, it's your turn:
What's your favorite travel tool that helps you plan your trips easier and faster, or save you money when traveling?
Shoot me a message, and I'll test it and add it to the list.