South African Food: 25 Of The Most Scrumptious Classics
Isn't sampling scrumptious food one of the best reasons to travel to a new destination?
Yet I'll admit, it never occurred to me that I'll fall in love with South African food.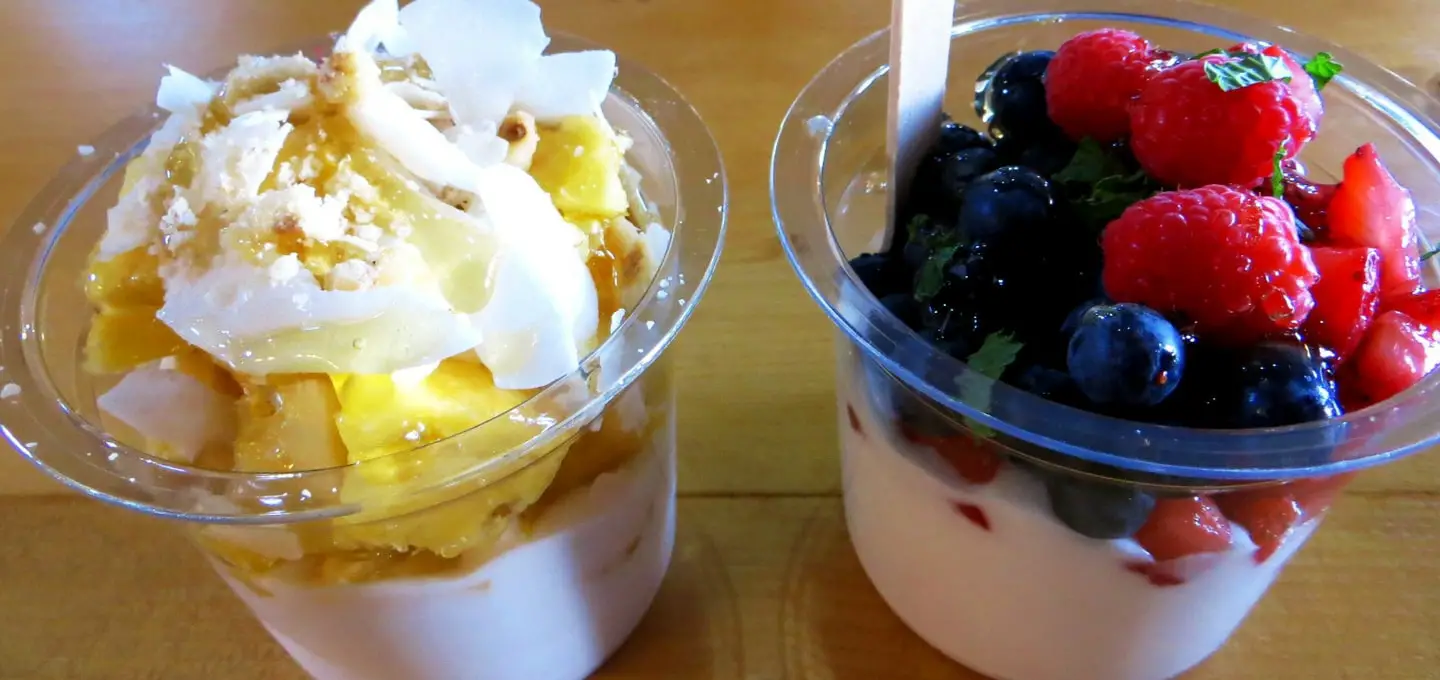 After all, it's not as popular as Asian cuisines or meals from the northern parts of the continent.
The traditional South African food is as diverse as the South Africans themselves. So many influences in the cuisine formed today's restaurant menus that even the simplest and rather common dishes receive a South African twist, making them a notch more intriguing than expected.
Sometimes it's just a spice.
Sometimes it's the freshness of the products.
And sometimes it's just the way your food has been prepared with love and served with a smile that makes all the difference.
The South African Food From The Age Of Discovery Till Today
In the 15th century, the Portuguese, and then about 200 years later, the Dutch brought their typical recipes to the southern parts of Africa.
Mixing them with the local African dishes and later with the Malaysian and Indian cuisines of the Asian slaves, then adding a pinch of French, Belgian, and German influences, made a colourful combination from three continents like in no other cuisine.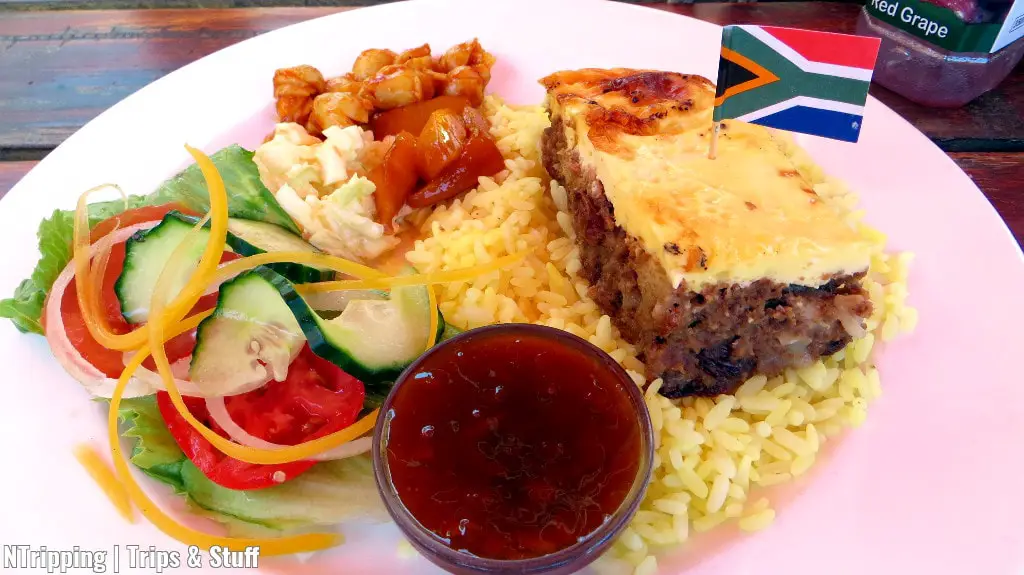 So how does a typical South African menu look like nowadays?
Breakfasts Made In South Africa
When you're visiting a new destination every day and are constantly exploring your surroundings, you have to start your day with a hearty South African breakfast.
Vetkoek: a deep-fried bread, which, as the name suggests, is a legacy of the Dutch. Despite being deep-fried, it's not heavy or soaking in fat. Add ham & cheese or jams to the fried scrumptiousness and start your day with an explosion of flavours.
Eggs: thanks to the British influence, South African breakfast includes any combination of eggs, bacon, ham, cheese, etc. I'm not sure what the hens are fed with, but their eggs are extremely delicious.
Fruit salad: with or without yoghurt, it's a must at every breakfast table. Everything is locally grown, except for kiwis. Don't even think of starting your day of exploration before eating a vitamin bomb made in South Africa.
Mouth-watering South African Dishes
Either for lunch or dinner, don't miss the chance to try at least one new traditional South African food each day. Of course, if you have an insatiable appetite for new dishes like me, only one won't be enough.
Oysters: the slippery creatures are considered a great delicacy. The best place to try them fresh is the town of Knysna on the Garden Route.
Fried mopane worms: ok, I'll confess that I didn't try the colourful caterpillars despite wanting to. Sautéed in butter and served with a traditional tomato gravy, they sounded incredibly delicious, though.
Ostrich salad: marinated ostrich slivers, cubed white brine cheese, peppers, avocado, cucumber, nut crackle, and baby spinach leaves with a honey and mustard dressing. Doesn't this sound lip-smacking? There are variations with other meats on the menu, such as Chicken salad, but the low-fat ostrich meat is, of course, the highlight.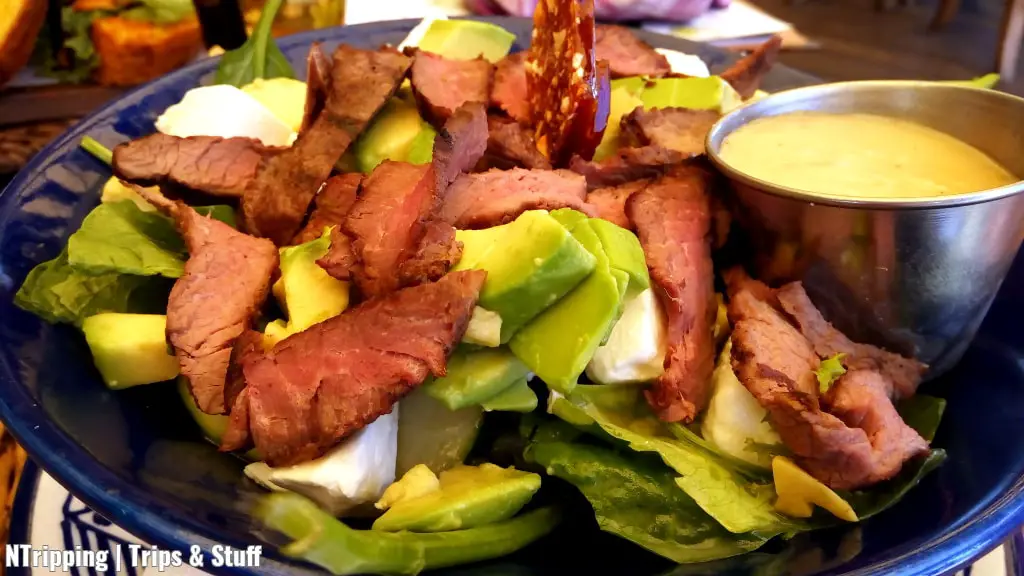 Carpaccio: the thin slices of raw meat are a mouth-watering Italian starter, but South Africans use springbok and ostrich meats to make a perfect dish taste even better.
Fresh fish grilled or deep-fried: the catch of the day is a must-try if you find yourself near the Atlantic or Indian Ocean coast. Hake, cod or snoek, it doesn't matter – it all tastes remarkably delightful.
Tiger prawns: the South African coast boasts some of the richest fishing grounds in the world. This includes the huge tiger prawns, as well as queen prawns and shrimps. Who can say no to fresh prawns?
Calamari steaks: forget about calamari rings or tubes, the calamari steaks are the most tender and delightful part of the calamari. And South Africans know how to seduce your palate!
Seafood platter: fish and prawns, as well as calamari rings, tubes or steaks and a combination of dips, sauces, and relishes. If you're a seafood lover, that's the one South African food classic you shouldn't miss!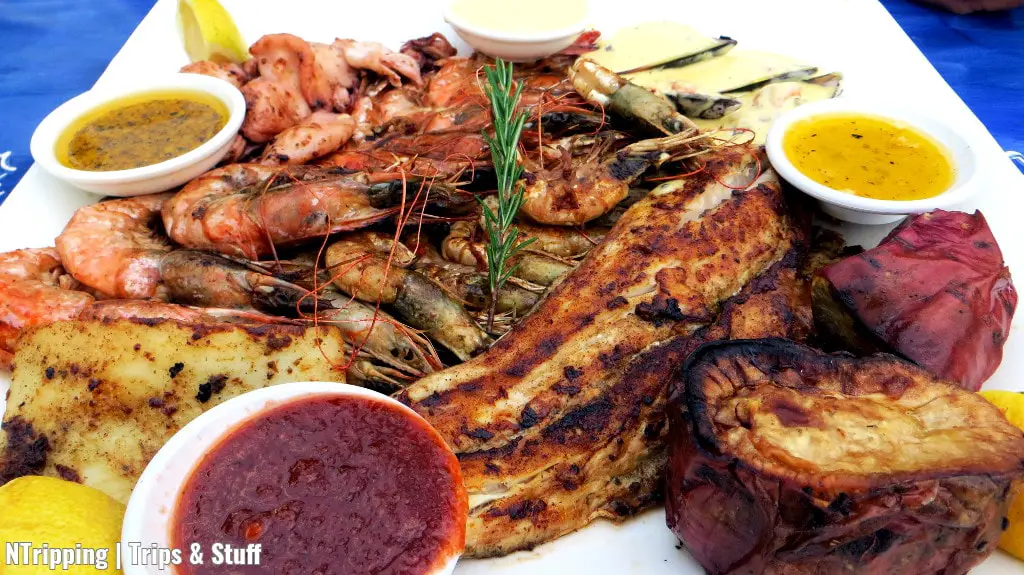 Mussels: prepared in cream and garlic sauce, fresh sea mussels are served in most restaurants as appetisers, but the portions are large enough to satisfy your hunger for at least a few hours.
Braai: South African style grilled meat. For meat lovers, this is the definition of paradise. Steaks, sausages (Boerewors), skewers, kebabs, spareribs, and even fish and lobster are perfectly grilled. Braai is not only about the food, though, as it is a social event with friends and family members.
Crumbed chicken: chicken pieces in breadcrumbs, deep-fried to make a crunchy deliciousness. Simply irresistible!
Karoo lamb stew: according to South Africans, Karoo lamb is the tastiest lamb meat there is. The Karoo is the semi-desert and lambs are veld-raised in the wide-open spaces of the Karoo. For someone who loves lamb and has eaten countless dishes containing this meat, I was still very pleasantly surprised by how tender and scrumptious Karoo lamb was.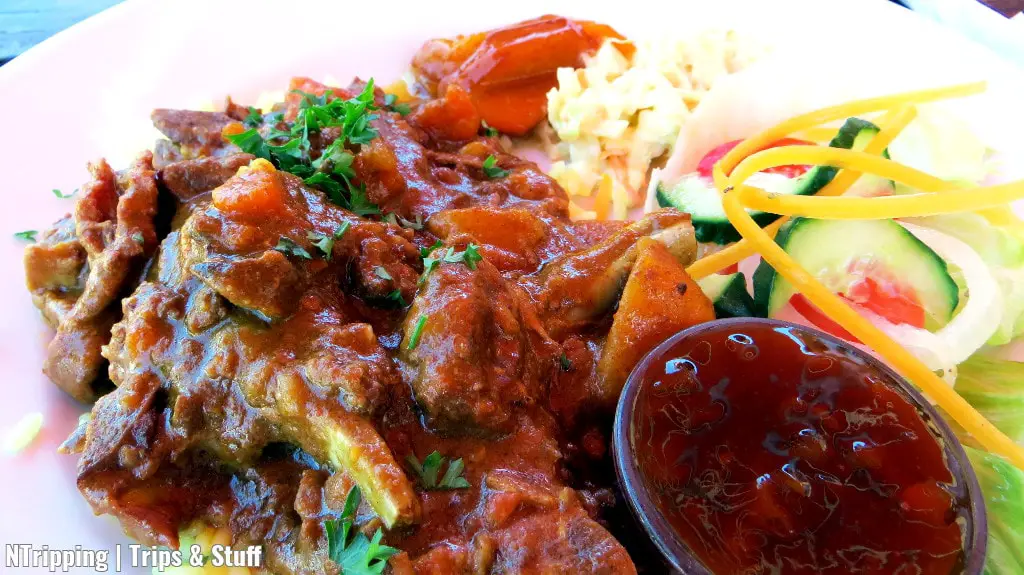 Klein Karoo venison potjie: potjie is a dish prepared in a small pot outdoors. The Klein Karoo venison potjie is slowly cooked in a sweet dark beer jus with baby onions, mushrooms, and cherry tomatoes.
Bobotie: the South Africa's national dish. It's an unbelievably delicious mixture of minced meat and spices, baked with an egg topping. The vegetarian version contains lentils instead of minced meat and is similarly delectable.
Chicken pie: roasted chicken delectably baked in a pastry.
Bunny chow: curry in a hollow loaf of bread. Fast food made in South Africa.
Burgers: beef, cheese, chicken, calamari or ostrich, the choice is very hard, I promise you.
Chakalaka: a spicy vegetable relish, served alongside South African dishes.
Biltong: dried cured meat, usually beef. Other variations include chicken, fish, and game. We tried the kudu biltong and it was like pure bites of heaven! There's also springbok, wildebeest, and ostrich biltong available.
Traditional South African Desserts To Die For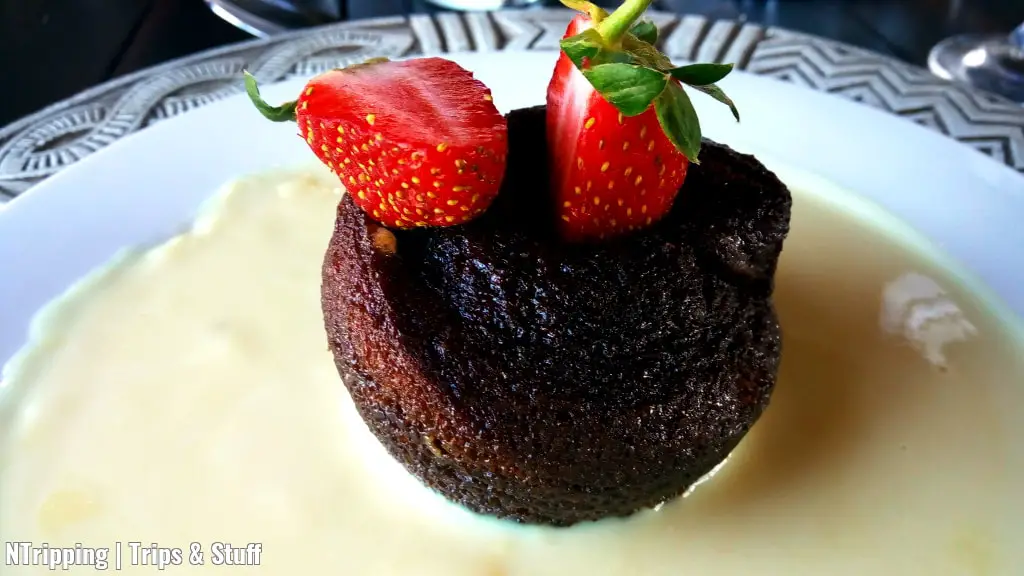 Malva pudding: a spongy caramelised pudding with a hot cream sauce poured over it. Don't devour it too fast! Otherwise, you'll burn your tongue on the sauce.
Double choco mud pudding: bitter dark chocolate meets unsweetened cocoa powder in this dessert that will make you bite your lips. Ice cream and fresh fruits complete this deliciousness.
Frozen coconut yoghurt: if you didn't know you could make yoghurt from coconuts, you've missed on one of the healthiest and most refreshing desserts ever invented. Topped with fresh fruit, nuts, and honey, this South African dessert was by far my favourite.
South African Drinks You Don't Want To Miss
We can't talk about South African food and not mention South African drinks as well.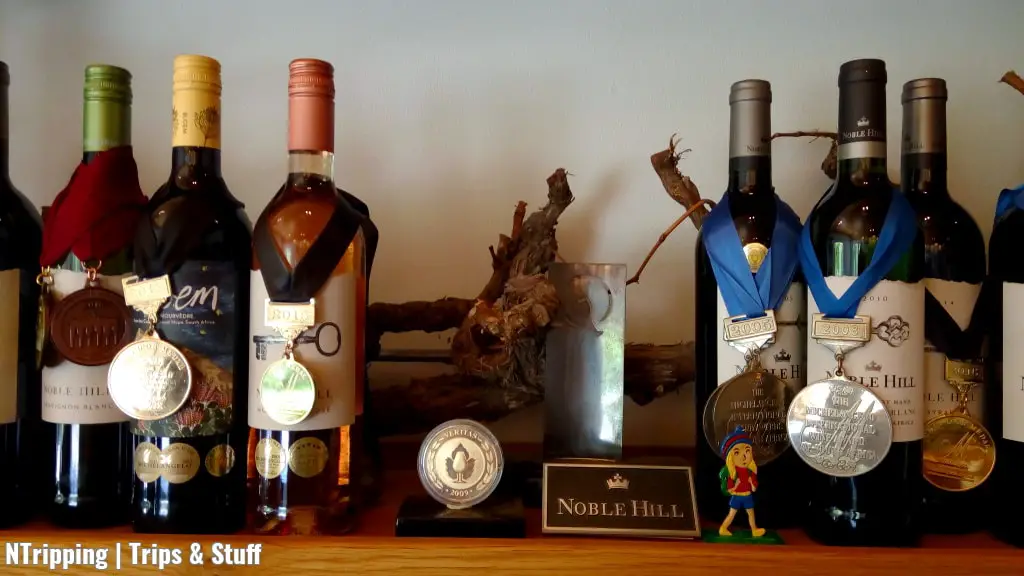 Non-alcoholic Beverages
Ginger beer: despite the name, it doesn't contain alcohol. The slightly spicy drink is incredibly refreshing and delicious. Some establishments even make their own, along with different styles of lemonades.
Grape juice or grapetiser: South Africans don't make all their grapes into delicious wines. They also produce non-alcoholic grape juices and grapetisers (sparkling grape juices).
Fresh pressed juices and smoothies: as mentioned above, South Africa produces all kinds of fresh fruits. This means you can find freshly squeezed juices and smoothies almost everywhere. Choose your own mix or follow the menu. Either way, you'll end up with a cup of mouth-watering healthy deliciousness.
The World Renowned South African Wines
A visit to South Africa can't be complete without at least one wine tasting, or even better – a wine tour. The country is well known for its world-renowned wines. A huge thank you goes to the French Huguenots, who brought the craft of winemaking from Europe.
Most vines are therefore from French sorts, such as Sauvignon Blanc, Chardonnay, and Chenin Blanc (white wines) and Merlot, Cabernet Sauvignon, Pinotage, and Shiraz (red wines).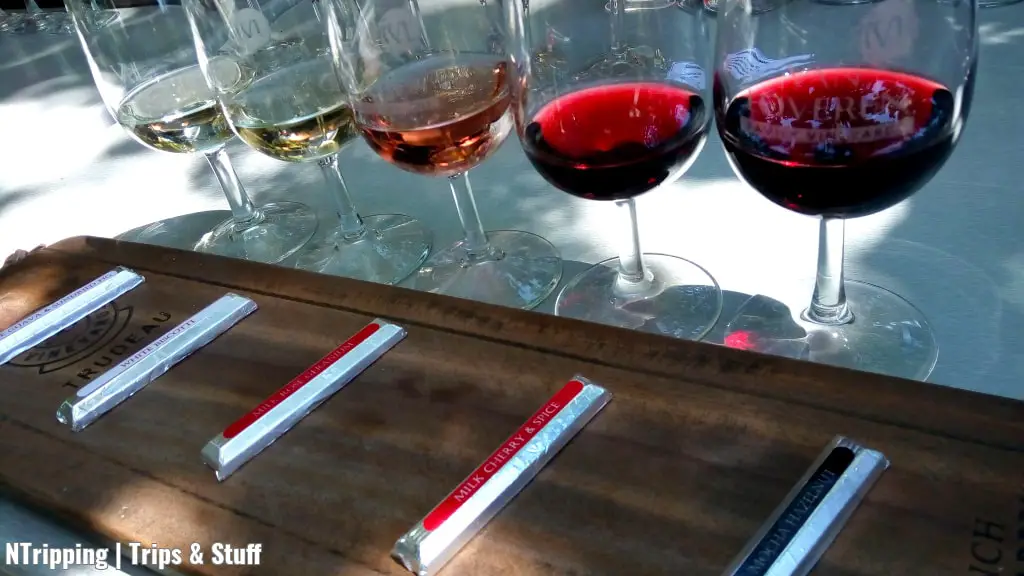 The highlight of our wine tasting experience was a wine pairing with specially crafted chocolates to complement each of the wines. It was an explosion of tastes and an experience like no other.
Learn more about the wine tasting in Cape Town experience from a fellow blogger.
Craft Beers Made In South Africa
With more than 200 artisanal beer breweries and about 4 centuries of beer brewing history, there's no wonder you can order craft beers in almost every establishment.
If you're searching for your favourite craft beer, check this extensive list of breweries.
Scrumptious Traditional South African Dishes You Should Try
Of course, you won't be able to try every single delicious and mouth-watering South African dish on the menu. So if you only have limited time, I would suggest that you at least try the seafood, Biltong and any of the traditional South African desserts.
Add a craft beer to your order and take a bottle of South African wine with you as a souvenir and you'll at least have some basic idea about how heavenly scrumptious South African food is.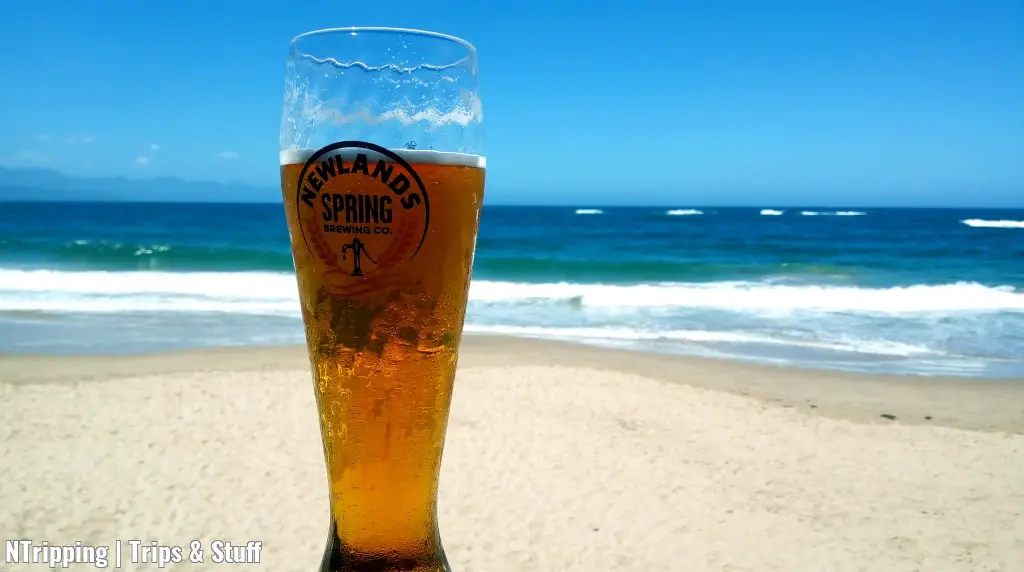 As it turned out, South African food alone was a good reason to visit this far away – for us Europeans –  destination. And we can't wait to come back for more lip-smacking South African dishes!
This post doesn't aim at listing every possible traditional South African food you can order, but rather to give you a basic idea of the celebration of tastes and senses which awaits you.
Have you travelled to South Africa? Which scrumptious South African dish did you enjoy the most?
Optimise your travels – connect better with the people you meet!
Do you know what the best way to immediately enhance your travel experience is?
Talking to the people you meet on the road!
Learn how to say "Hello!", "Thank you!" and "Good bye!" in 36 languages.
Download the Traveller's Free Phrasebook now.
Once you've confirmed your e-mail address, you'll receive a link to download the phrasebook. You'll also receive updates about new stuff on this website approximately every 3 weeks. You can unsubscribe at any time. Learn more about our Privacy Policy.