7 Awesome Free Things To Do In Milan
Milan and I seem to be having this last minute, no questions asked, come as you are, kind of affair.
I've visited the city three times already and I never planned in advance, it always just happened naturally that our paths crossed. Interestingly enough, all times it's been in winter, around New Year's Eve.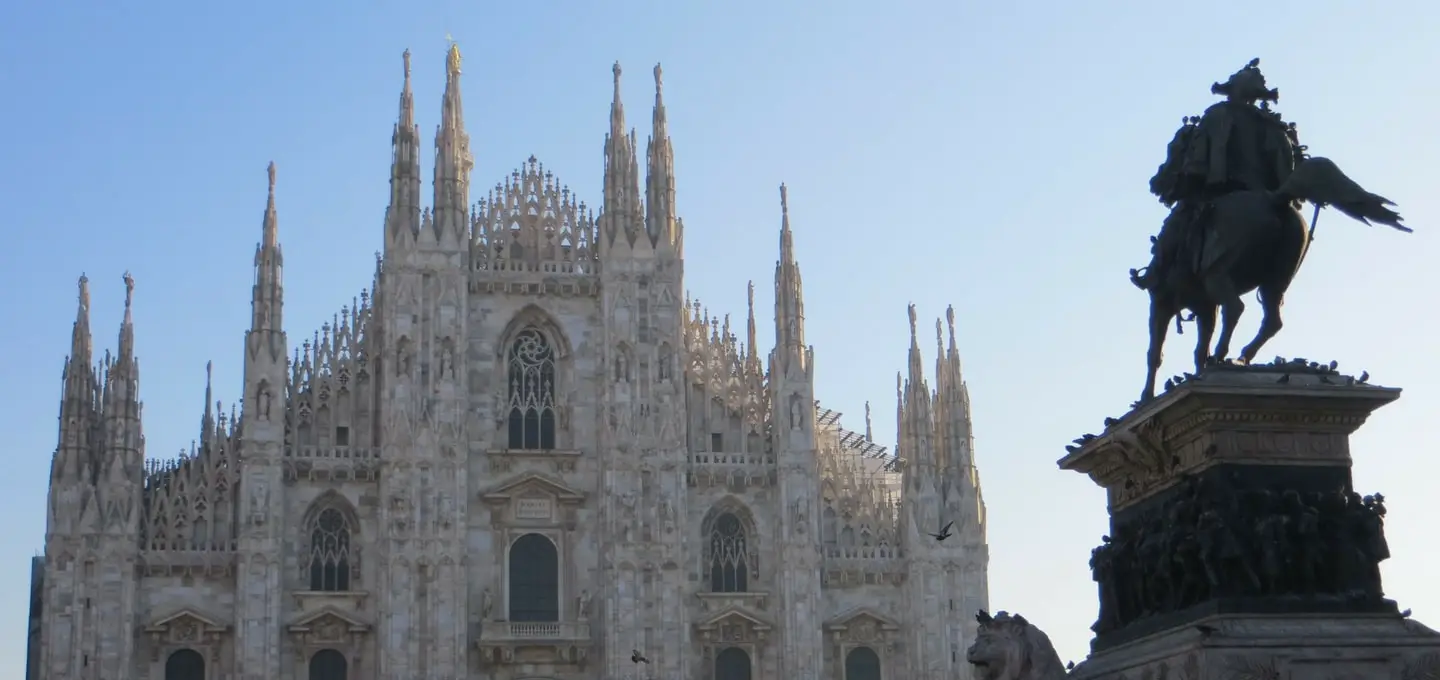 Why Winter Is The Best Season To Visit Milan
Milan should definitely be on your Italy bucket list.
And while some might find it cold, Milan in winter is actually very beautiful. All the Christmas decorations and holiday spirit make the City of Fashion fairytale-like.
The biggest advantage of the lower temperatures is that the streets aren't packed with tourists. In fact, most visitors only gravitate towards the main sightseeing attractions, which you can visit in Milan in a day:
Il Duomo and the square in front of it with Vittorio Emanuele's lovely statue.
The Galleria Vittorio Emanuele II, also known as the mother of all shopping malls.
The museums and the galleries in the former palaces around the Duomo.
The fashion and shopping district.
The Sforza Castle.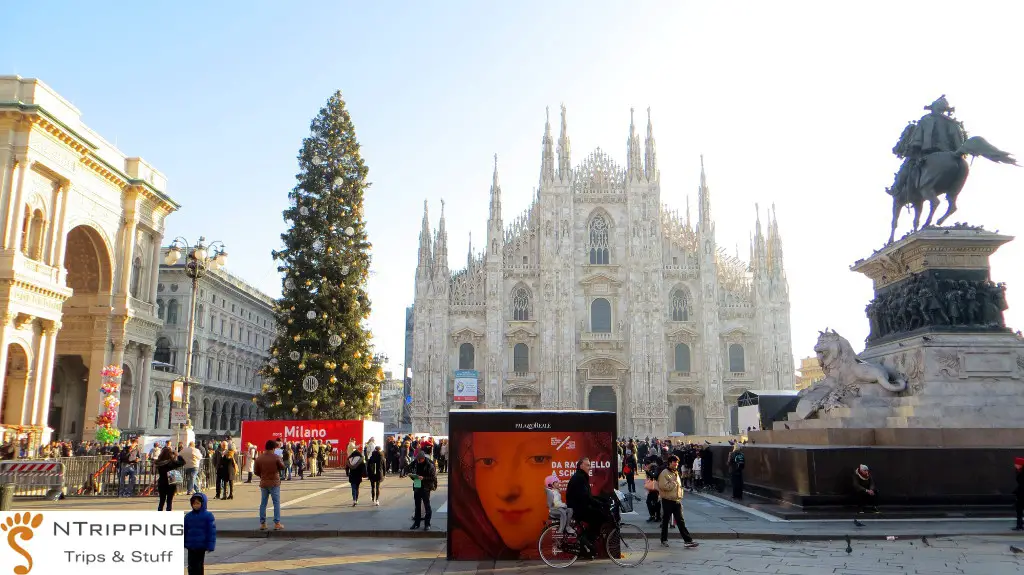 The rest of the city is more or less tourist-free. There are whole streets without a single person walking down the cobblestone pavement.
Milan, Italy's second-biggest but financially and economically most important city, sure is quite expensive, and for a poor beginner blogger like myself, it was a priority to watch my daily budget closely.
So I was happy to find that there are tonnes of free things to do in Milan.
If you have more than a day in Milan and want to do other things rather than visit the most popular attractions, check these awesome free activities as well:
1. Make Your Own Free Walking Tour Itinerary
Instead of paying for a guided tour, the most obvious of all free things in Milan would be to create your own walking tour. 
Build it based on your own interests, take pictures of the wonderful buildings, and admire the marvellous architecture. Ancient Roman, Gothic, Renaissance, Baroque, Neoclassical, Neo-Romanesque, Art Nouveau, neo-medieval, Art Deco… you name it, structures from every possible period can be found in Milan.
You can also check this one-day itinerary for Milan.
While walking and paying attention to where you step is important, looking up can actually provide quite surprising and rewarding sights: façades full of ornaments and statues and occasionally graffiti and street art.
Lots of shops have found their home in buildings, which are actually real architectural treasures and quite worth at least a look, if not a picture.
During the holiday season, a lot of attention is paid to decoration, and since it gets dark pretty early in the afternoon – and it might be darkish during the day too due to weather conditions – you don't have to wait long for all the lights to go up and to enjoy a wonderful scene.
2. Enjoy The Work Of Talented Street Artists
While crossing squares and famous sites, you'll encounter lots of street artists. Most of them are great at what they do. I've listened to some excellent covers of big rock hits and nice jazz jams. People were indeed stopping and listening to the music, and even dancing in the street. The atmosphere was amazing.
Not to mention the beautiful graffiti, left by unknown hands.
3. Do Some Window Shopping
Speaking of music, lots of shops around the world play music for their customers to enhance their shopping experience, or actually to make them buy more.
But in Milan, the whole fashion district plays background music! Yes, that's right, you walk down the pedestrianised streets and do your window shopping accompanied by music.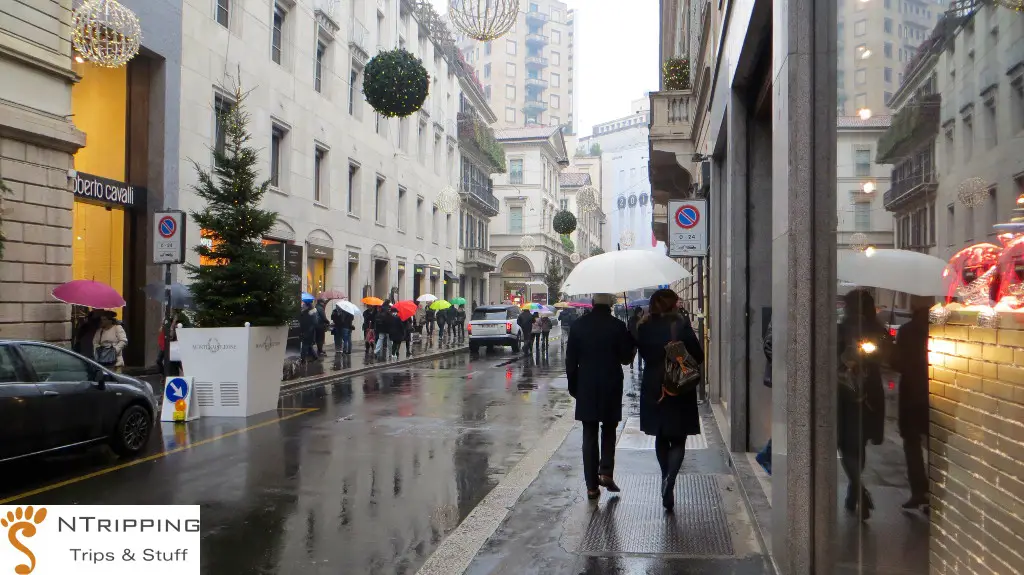 While window-shopping in the fashion district between the streets Via Montenapoleone, Via Della Spiga and Via Manzoni, don't miss to check out the guards and the consultants in the shops. Most of them look like they've just stepped down from the catwalk for their day jobs!
4. Do Some People Watching
People-watching can be done pretty much everywhere, but I've noticed that both locals and visitors in Milan tend to be more interesting to observe than anywhere else I've been.
You can see everything:
from elegance to extravagance;
from thousand-euro-suits to something that seems like your grandma just knitted;
from heavy makeup, colourfully dyed hair and tattoos to perfectly clean skins and simple hairdos.
Most squares, as well as cafes and restaurants with outdoor seating, offer excellent opportunities to enjoy the views.
5. Relax In The Charming Parks Of Milan
Of course, if you're not into crowds and watching what other people are wearing, you can head to one of the numerous Milanese parks.
The Sempione Park and the Montanelli Gardens are the most popular ones. The first one stretches from the Sforza Castle to the Arc of Peace and is the home of the Aquarium, the Triennale, and the Palace of Art, among others.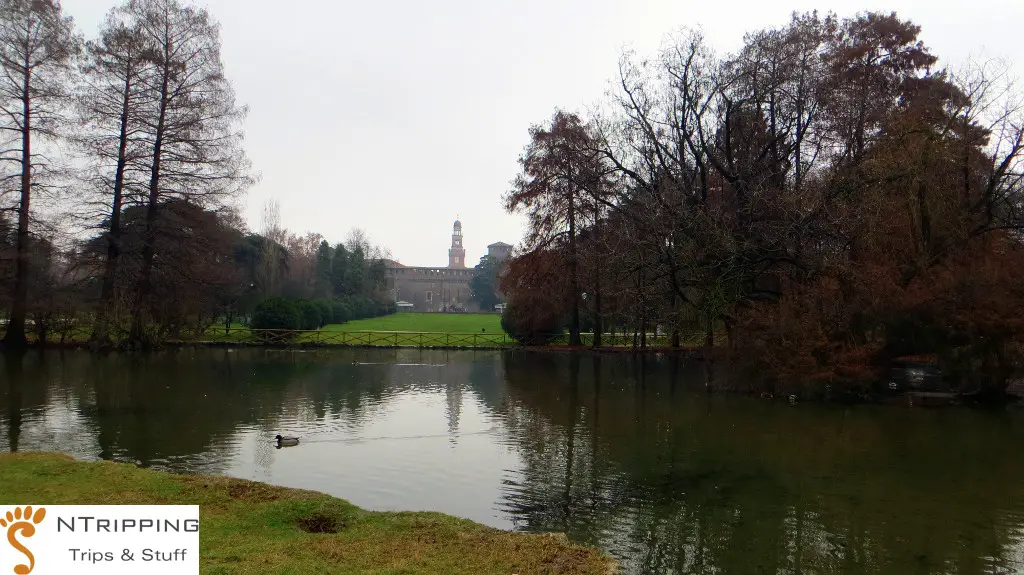 In the Montanelli Gardens, you'll find the Museum of Natural History and the Planetarium. In winter, there's also a Christmas market, complete with an ice skating rink.
6. Enjoy The Vibrant Markets
And if strolling in the park is not for you either, maybe you can visit a market.
From clothes to fruit and vegetables but also flea markets with "antiques", there's something for everyone in the Milanese markets. Be sure to check what you're paying for very carefully! Do not make my mistake of becoming overly excited to find 1€ mangos, only to discover later that the one I bought was spoiled and hardly edible…
7. Find Tranquillity In The Churches Of Milan
If you're tired of being outside, why not head to one of the gazillion churches in Milan?
From Il Duomo, the magnificent cathedral, landmark of the city, and one of the top must-visit attractions in Italy, to the Church of Holy Mary of Grace, the original home of Leonardo's Last Supper, all churches, cathedrals, and basilicas in Milan are free to visit.
Just have in mind, that they are still places of worship so don't disturb people who are praying, confessing, or listening to the mass.
To enter the Duomo, you need to pass through a security check and the line to get inside is really long, even in winter. However, it is considerably shorter in the mornings.
In my opinion, the façade of the cathedral is more interesting and astonishing, so I really wonder why people spend more time queueing than looking at the statues and decorations of the exterior.
For example, not a single person was looking at the amazing bronze gate when I approached it. And the scenes depicted are unbelievably beautiful, see for yourself!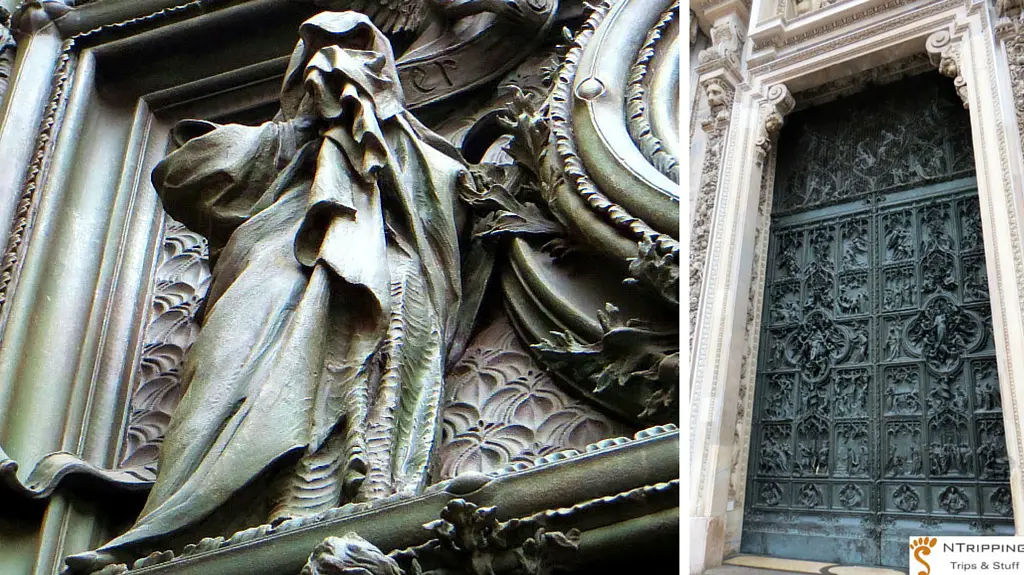 My favourite church in Milan became the Romanesque Basilica of Sant'Ambrogio, one of the oldest churches in the city.
I spent an hour or more (I lost track of time!) sitting in the crypt in the back of the basilica, listening to the mass (no, I didn't understand a word!), smelling the incense. During this experience, I couldn't help but think about life, death, and the legacy each one of us leaves behind.
For me, visiting three churches in a city is the most I can take in, so I left the other churches for my next visit. No, I'm not planning it yet, but I'm sure it will happen one day when the time is right.
Additional Money-Saving Tips
Of course, not everything in Milan is free of charge, so below are several money-saving tips for your visit.
Moreover, learn how to plan your perfect trip to Italy from this comprehensive guide on It's All Bee.
Ground Transportation
Instead of using taxis whenever you can't reach an attraction or your hotel on foot, use the extensive public transportation network. It's convenient and rather cheap.
For example, I used the 10 tickets carnet and a couple of single tickets and my transportation cost for six days was around 15€ ($18.50). That's the approximate price of a single taxi ride.
When buying the tickets, you can ask for assistance or directions the ATM agents in the underground, most of whom speak English and are very helpful.
Day Trips From Milan
You can make the city your base camp for exploring Northern Italy and beyond by train. Taking day trips from Milan is a great way to see more of the country.
Hop on the train at Milan Central Station and visit the nearby Lake Como, home of dramatic scenery and extreme luxury. A day trip will set you back just 5€ ($6) for a one-way ticket!
Using the excessive railway system and fast trains, you can visit even further destinations.
For example, in about an hour, you can reach Bologna. Once there, you can explore it on a day trip or venture outside the city limits. Here's a comprehensive list of things to do in and around Bologna.
Another fascinating day-trip destination is Certosa di Pavia. The Renaissance masterpiece is a hidden gem just an hour away from Milan.
Food And Drinks In Milan
Eateries in Milan and other parts of Italy have different prices for drinks and food ordered and consumed at the counter or at a sit-down table. If you're just going to drink coffee or a beer, there's no point in taking up a table and paying double the price.
Additionally, not all menus mention that there's an extra service fee. In one pizzeria, I witnessed two girls being really surprised at their bill. They were expecting to be paying 7€ for the pizza they shared when they were asked for 10€. The difference came from the 1.50 €/person service fee, which they shouldn't have had to pay, had they ordered the same pizza as a takeaway.
Still, what locals do when they order their espresso has left me surprised more than once. They hardly leave the coffee to settle in the small cup and they drink it bottoms up as if their time on Earth is running out. I can't stop wondering how the hell they don't burn their insides?!?
For dinner, you can save a few bucks by joining the locals for their apperitivo. Lots of bars offer from small snacks to huge buffets if you order a drink in the evening. Prices of drinks are higher than at other times, but it's still cheaper than ordering a meal and a drink separately elsewhere.
Accommodation And Comfort
During my visits to Milan, I've stayed in some very affordable 3* hotels with great complimentary breakfasts and I see no reason to book a dorm bed or try to save a few cents from my comfort.
A single room with a private bathroom, a delicious breakfast, free Wi-Fi, free toiletries, and a safe for my valuables for 47€ ($58) per night might not seem cheap to some people, but there's no way I'm sharing my bathroom with eight or so other people! :)
When wondering where to stay in Milan, have in mind that choosing the right location can additionally save you on transportation costs.
Check that you can easily access train stations and airports as well as the main attractions that you'll be visiting from your accommodation before you book. Sometimes not having to pay for a taxi ride can mean you'll be able to afford a better room!
Sometimes, The Best Things In Life Are Free
You can always spend a tonne of money on attractions, tours, entrance fees, or meals. But sometimes, the best things to do in an otherwise very expensive destination like Milan are actually free.
Maybe the same things that I enjoyed so much during my city break won't appeal to you but if they do, I'll be happy to have helped you make the most of your stay in Milan.
Either way, if you've been to Milan or planning to go, share your thoughts in the comments.
Optimise your travels – connect better with the people you meet!
Do you know what the best way to immediately enhance your travel experience is?
Talking to the people you meet on the road!
Learn how to say "Hello!", "Thank you!" and "Good bye!" in 36 languages.
Download the Traveller's Free Phrasebook now.
Once you've confirmed your e-mail address, you'll receive a link to download the phrasebook. You'll also receive updates about new stuff on this website approximately every 3 weeks. You can unsubscribe at any time. Learn more about our Privacy Policy.