Road Trip Adventure To Strasbourg, Europa Park, And A Castle
I've always loved roller coasters and amusement parks.
Who doesn't, really?
In Germany, there are around one hundred parks with a huge amount of roller coasters, not to mention the fairs with their mobile rides.
Naturally, not all of them are of interest to me, but maybe at least 20 are on my "must visit" list.
Of course at the top of this list was the biggest German amusement park – Europa Park in Baden-Württemberg, a province some four hours away from where we live.
The big distance means that it is, unfortunately, impossible to visit the park often or do a day trip and even a weekend trip would be too exhausting.
Imagine then how happy I was when my husband surprised me for my birthday with the idea to make a road trip to Strasbourg, which is 45 min away from Europa Park, enjoy a city tour, visit the park and drive back home. We decided to make it a four day – three nights trip in the middle of June 2014 and later called it The Great Roller Coasters, Football and Castles Road Trip.
First Stop: Strasbourg
We had previously visited France, but only stayed in Paris, so we were very excited to be in a border city full of history, which was part of Germany once but is now French.
If you're visiting the French capital yourself, make sure to venture to Strasbourg as well!
It was a strange feeling to see all those architectural sites which make the old town look like any historical German city centre with all the Fachwerkhäuser (timber framing houses), yet know that we're in France.
The weather was great, sunny and warm, and we loved exploring the city.
Flowers were blossoming everywhere and their colours made the old town look like a fairytale.
The gothic Strasbourg Cathedral with all the statues, figures, and decorative elements threw shadows on the much smaller buildings around it. If you're like Gothic buildings, definitely add Strasbourg to your trip of historical places in France.
We even witnessed an open-air medieval music concert and dances in one of the city squares.
We spent about one and a half days roaming the streets and bridges of Strasbourg before we headed to Europa Park on the third day of our trip.
We didn't want any distractions, so we left the camera at the hotel – no photos to share, sorry, but you can head up to the park's website and see all the attractions there.
Tip: you should put Strasbourg not only on your travel bucket list but also make it a part of a road trip through France.
The Main Event: Europa Park
My previous experiences with amusement parks were always pretty great, but I must admit – Europa Park blew my mind!
The roller coasters were extremely fun to ride, the thrill was great and the adrenaline pumped through my veins for days afterwards. We did enjoy some slower rides, of course, and we walked through the alleys watching the outdoor shows and having delicious snacks as well.
Germany's biggest theme park and Europe's second largest (stepping down only to Disneyland, Paris) is actually so huge, that there is a monorail train running from the entrance to the far end of the park and back. And yes, we rode this one too.
Although Silver Star is the main and most popular attraction, being the highest (73 m) and fastest (130 km/h) roller coaster in Germany, we actually enjoyed Blue Fire even more. Somehow the acceleration from 0 to 100 km/h in 2.5 seconds at the very start of the ride caught us totally by surprise and made this the most memorable ride of the day.
We didn't manage to ride all of the twelve roller coasters but made it to half of them, which was more than enough thrill for a day.
The park consists of several themed areas, each representing a different European country or a fantasy land. Rides are designed to reflect the countries' history, mythology, geography or traditions. Also, the food stalls sell typical snacks from every region, which made the choice of what to eat quite difficult…
There is even a two Michelin Stars restaurant in the park – Ammolite is the first restaurant in a theme park in the world to receive two stars and a 16 out of 20 points from Gault Millau.
Since we visited the park on a day of the UEFA World Cup 2014 finals in Brazil and we were lucky that Germany was playing on that day, we stayed in the park after the attractions closed and joined the other fans to watch the game together.
It was the first game for Germany and it was an amazing start for them on the path to becoming world champions. What a way to end a perfect day!
The adrenaline of the rides, mixed up with the joy of the victory, made this the most amazing birthday present ever! And the trip was not finished yet.
The next day we had to leave and drive back home.
Despite the fact that there were more things to do in Strasbourg, we decided to start driving in the morning and make a stop somewhere along the way.
A quick search revealed us a new destination, which we hadn't visited before and was exactly in the middle of our route back home.
For those of you who don't know this, it might be quite a surprise to learn, that there were a total of more than twenty thousand castles built in Germany!
Most of you have heard of the Neuschwanstein Castle and its little sister Linderhof Palace but can you name another castle?
I know I couldn't when I moved to Germany over a decade ago. Since then I've visited around 20 castles, fortresses and ruins, but there are so many more to see.
The Unplanned Surprise
So with the above in mind, you can probably already guess, that the destination we chose for that day was a castle!
The Rheinfels Castle which overlooks the river Rhine (Rhein in German) and is open to visitors turned out to be one of the most thrilling sites that we've seen until this day.
After several expansions, it used to be the largest fortress in the Middle Rhine Valley.
Sure it's a ruin now and there are almost no rooms to visit, but we were allowed to go in everywhere, stand on every wall we could climb on and go down every staircase and through every tunnel!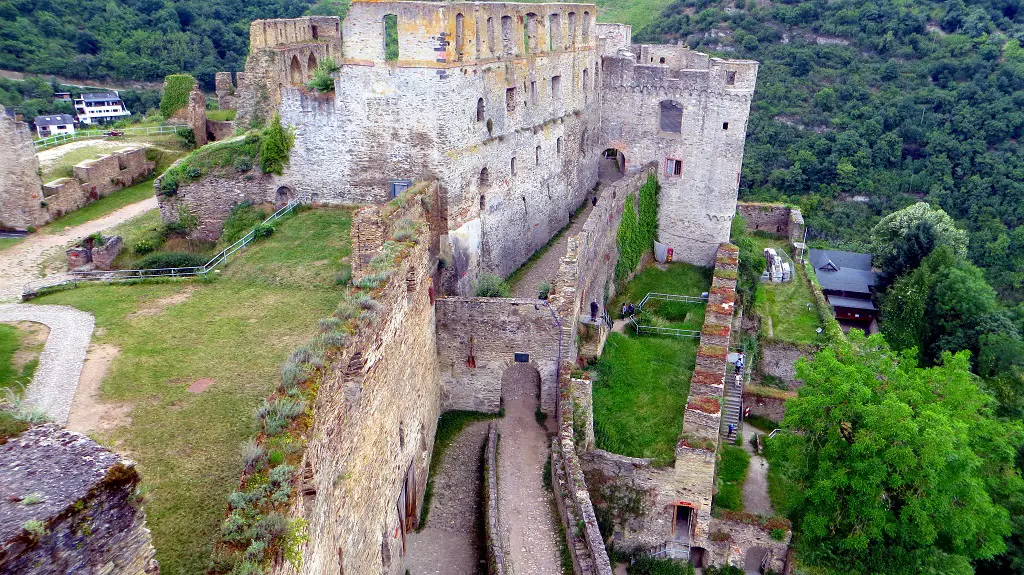 I admit we were quite surprised to read the sign at the entrance "Please bring a flashlight with you", as we had never before needed one in a castle or fortress and good thing that my smartphone had an app which uses the camera flash as a flashlight, otherwise we would have missed the most awesome castle visit ever.
While the defence tunnels were pretty high and there was light coming in, the mine tunnels were pitch dark and we had to almost crawl to go through them.
Best part? We were amongst the last visitors for the day and we were alone down there all by ourselves!
The End Of The Tour
We finished the roller coasters, football and castles road trip by driving to the Loreley rock which revealed a breathtaking view of Rhine's narrowest part. Honestly, we didn't want the trip to end but I'm sure we will, at least partially, repeat this tour again.
P.S. Have you been to any of these places? Or do you plan on going? I'd love to hear from you in the comments and answer any questions you might have about this trip.
Optimise your travels – connect better with the people you meet!
Do you know what the best way to immediately enhance your travel experience is?
Talking to the people you meet on the road!
Learn how to say "Hello!", "Thank you!" and "Good bye!" in 36 languages.
Download the Traveller's Free Phrasebook now.
Once you've confirmed your e-mail address, you'll receive a link to download the phrasebook. You'll also receive updates about new stuff on this website approximately every 3 weeks. You can unsubscribe at any time. Learn more about our Privacy Policy.