Why Bad Experiences Shouldn't Stop You From Travelling
Travel is supposed to be fun and fulfilling, full of great memories and amazing stories to tell.
Sometimes, unfortunately, there is another kind of memories that we bring back home from a trip.
No one likes to talk about them, but they are a part of the adventure – the bad experiences travelling.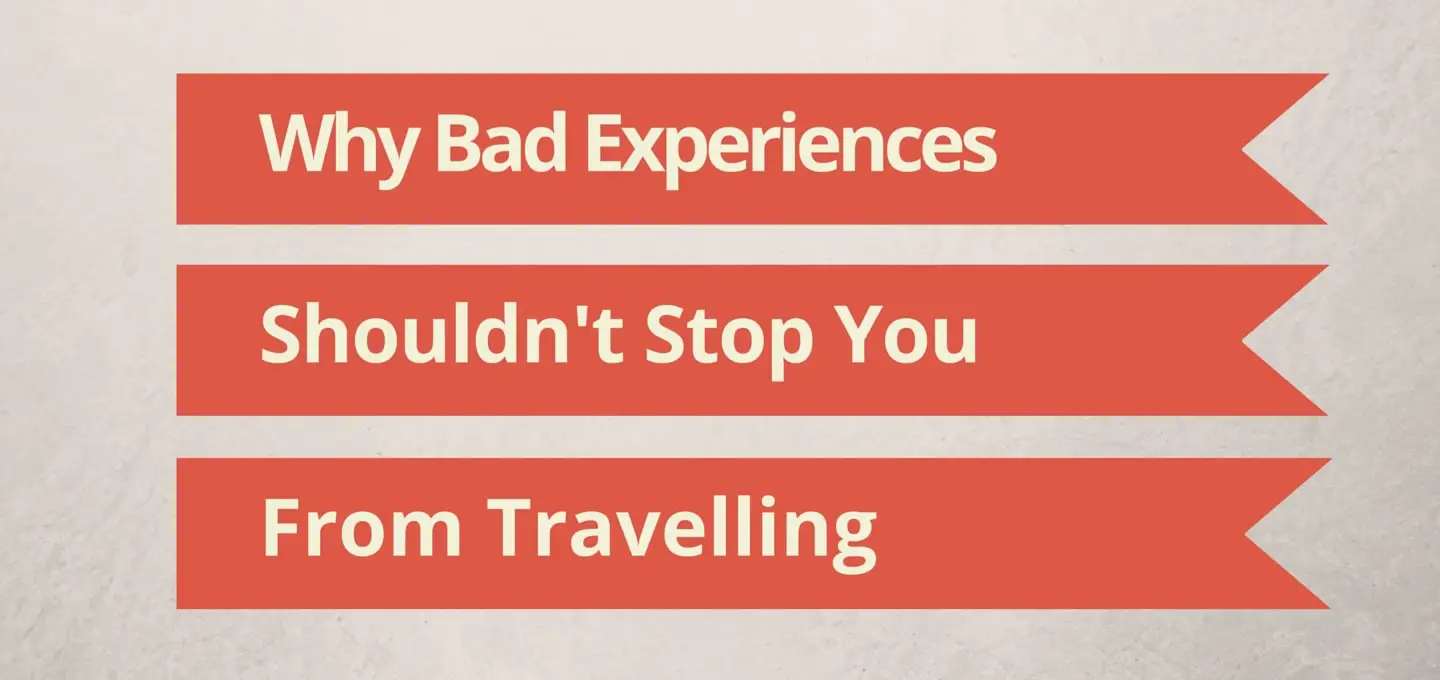 What Is The Worst That Can Happen During Travelling?
A lot of the situations we end up in can happen back home as well.
However, while travelling, we're out of our comfort zones in an unfamiliar situation. Even if we stay alert most of the time, there are circumstances we just can't predict as we lack previous experience.
That's why it is best to learn from the experience of other travellers. Hence, the reason I'm writing this post is to give you an idea of what can go wrong during a trip and how you can handle it if, god forbid, you end up in a similar situation.
You Could Get Sick While Travelling
We can all get sick while at home. On the road, however, we're often exposed to unfamiliar scents, foods, climates, sometimes even lack of hygiene as we're used to.
Last week I was sick.
It started during a trip to the Baltic Sea as a simple cold, which I thought I had under control after two visits to the sauna.
Unfortunately, I was wrong and the cold turned out to be tougher to beat than I imagined. I started coughing really hard, at times I couldn't even catch my breath.
During the drive back home, the rain was pouring down making me sleepy in the passenger seat. I started wondering if that would have happened had I stayed home.
Probably no. The wind at the Baltic Sea was fierce and despite wearing warm clothes, my body froze. Still, I had a much better time travelling up north and getting sick than had I stayed home lazing around on the sofa doing nothing.
In my opinion, avoiding sickness while travelling can sometimes be tricky. The important thing is to not let it ruin your travels and get in your head.
You Could Injure Yourself During Your Vacation
As with getting sick, being in an unfamiliar surrounding can put you in danger more often than at home.
That's what happened to me during a summer vacation.
We arrived in the beautiful Rock Algarve on a Saturday evening. On Sunday morning we went for a walk on the beach all the way to the centre of Albufeira, about 3 km away from our apartment.
On the way back, it was getting hot and I decided to go into the water to cool off. But instead of going in, I ran in.
I have no idea what got into me. Running in without knowing what lies at the bottom of the ocean?
Long story short, I tripped on a rock and felt a sharp pain in my toe. I fell and the waves started crashing around me, not giving me a chance to stand up.
I managed to pull my foot out of the water to check the damage. It didn't look good – my toe was staring at me at a weird angle.
At this point I knew I couldn't stand up on my own, so I started waving at my husband to come to help me. At first, he wasn't sure what was going on, but after a minute or two, he realised that I actually needed assistance. He came and pulled me out of the water.
An ambulance was called and we waited on the beach for it to arrive. People gathered asking what had happened and if they could help with anything.
It seemed like ages passed before the ambulance arrived, but it did and the paramedics were really nice. They carried me to the ambulance, police came as well to ask us about the accident and write a report.
As it was a Sunday – of course, this kind of situations always happen at the most inconvenient time – it took some deliberation where the ambulance should take me as the nearest hospital was closed.
Since we were on the beach, we had no documents or health insurance cards with us. My husband had to go to the hotel and take our IDs, then come to the hospital by himself.
The hospital was in the next big town, Faro, almost 50 km away.
I spent the whole trip to the hospital worrying that our vacation has been ruined.
Although everyone assured me that my toe wasn't broken and it was just dislocated, I imagined how I had to lie by the pool for two weeks and not be able to go anywhere.
The visit to the hospital went pretty well, as expected no bones were broken and the whole procedure took about 40 minutes. The surgeons were great and took a really good care of me. Soon enough we were out of there.
It was hard to walk with the huge bandage and the pain in the foot, but by the evening I was already able to make a few steps.
The next day we rented a car.
After a few more routine visits for new bandages during the next days, we soon started exploring the beautiful Algarve.
Turned out that without the rental we would have missed a lot of the sights and at the end, it was a good thing we rented the car.
In the end, despite the bad injury and the unfortunate start of our vacation, we spent two unforgettable weeks in Algarve, visited a lot of incredible places and had tonnes of fun.
Sailing with a pirate ship near the coast of the Algarve and admiring the beautiful rock formations
Could something like that have happened back home?
Of course, I could have tripped somewhere on the street, although probably I would have been wearing shoes and the damage would have been smaller.
You Could Check-in The Worst Hotel Ever
On our first ever vacation as a couple, my boyfriend at the time and I booked a two-week stay in S'Illot, Mallorca, Spain.
Let's just say that from the whole description of the package only the distance between the hotel and the beach was true.
We arrived at something which looked like an abandoned building with sad people staring at nothing as if they were sentenced to spend their time here instead of enjoying their yearly vacation in a fun and relaxing place.
Soon we realised that the inside looked even worse than the outside of the hotel. To make things worse, the staff was the most unpleasant and rude group of people imaginable. And if that was not bad enough, the food was awful in any way and the only way we could enjoy our time even a little was to change hotels.
Fortunately for us, we were able to get a room in another hotel in Cala Ratjada, about an hour away from this disaster. The new hotel turned out to be more to our liking.
Despite the fact that we needed to pay more and that we had to arrange our own transportation to Cala Ratjada, we gladly transferred.
Of course, that was a terrible start of a long-awaited vacation after years of not seeing the beach, but at the end, it proved us we could work as a team and manage difficulties during travel.
In fact, S'Illot turned out to be so boring and so not what we wanted, that we were glad we ended up in Cala Ratjada, a former fishermen village with beautiful beaches. And after all, we had a success story to tell.
Warning: several months later we saw the horror hotel in a TV show as one of the worst places to spend a holiday. That was the first and only time we booked a vacation through a travel agency and followed someone else's recommendation instead of doing our own research. Lesson learned!
I've just checked and it seems that despite all the complaints (we weren't the only ones who hated the hotel in S'Illot) and the TV show feature, the hotel is still in Altour's catalogue.
I really can't believe that they haven't even changed the description. And the photos are probably taken ages before the hotel became the ruin it is nowadays.
Don't be fooled by the two "suns" too. Those do not match any official hotel categorisation. Officially this hotel has ZERO stars! The "suns" only reflect Altour's recommendation.
Well, thanks, but no thanks, I prefer real stars!
You Could Become A Victim Of A Scam Or A Robbery
To be honest, I believe this can happen more often back home than during travelling.
Travellers tend to be extra careful when visiting a new city but forget about common sense in their backyard. It is because we are so confident that we know our surroundings at home and often are too relaxed.
Meanwhile, when travelling most people are alert in the presence of others around them.
If you don't let strangers get too close to you, you'll minimise the chances of robbery and pickpocketing greatly. Still, if something happens to your money or passport, don't panic.
Report your stolen goods and visit your country's embassy to get a permanent travel document.
Here are a few tips to prevent such unpleasant experience during travel:
Don't take all your money with you. Keep at least some of it at your accommodation.
When you leave your hotel, your passport shouldn't leave with you. It is safer in your room than in your pocket and on the streets.
Have back-up money or credit card stashed somewhere safe in your room.
When you take your wallet to pay on the street, make sure nobody is watching or could grab it and run.
Don't let strangers get too close to you. Avoid crowds.
Check which travel vaccinations you'll need for your next destination and renew them. Also, carry (a copy of) your vaccinations pass with you.
Even If You've Had Bad Experiences, Don't Let Them Spoil Your Travels
I'm always determined to get the best of my time on the road. A cold or an injury can't stop me from having fun :-). It can change the planned activities or even cut some vacations short, but never really spoil a vacation.
It is all about the attitude.
I know people who almost always say they had a terrible time during their vacation because someone was feeling sick or they fell for a travel scam.
That has never stopped me from having fun. And in most situations, I even learned a great deal about myself or the people around me from the bad experiences we went through together.
It is much easier to be there for someone while everything is perfect. The real relationship test is to be there when they actually need your help.
Simply take precautions and learn how to avoid common injuries and illnesses, such as diarrhoea and food poisoning, and you'll be fine.
There is no doubt what huge benefits travel brings to your life and why you should travel. Even if the stories you take back home are somewhat negative, it is still the best education one can get!
Have you had any bad experiences during your trips? I hope not, but if you had, share them and the lessons you learned in the comments below!
Optimise your travels – connect better with the people you meet!
Do you know what the best way to immediately enhance your travel experience is?
Talking to the people you meet on the road!
Learn how to say "Hello!", "Thank you!" and "Good bye!" in 36 languages.
Download the Traveller's Free Phrasebook now.
Once you've confirmed your e-mail address, you'll receive a link to download the phrasebook. You'll also receive updates about new stuff on this website approximately every 3 weeks. You can unsubscribe at any time. Learn more about our Privacy Policy.